We want you to feel at home when you support Nevada HAND's mission. We offer engagement opportunities that allow people to learn more about our organization and see how the work we do impacts our residents and the fabric of the Southern Nevada community.
SCHEDULING A TOUR
Breakfast at Our House – You're Invited!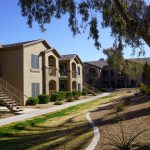 Nevada HAND manages 35 incredible communities across Southern Nevada, and you're invited to learn more about them. Join our team for a tour and breakfast to get a first-hand look at how Nevada HAND is creating opportunities to live well!
We believe that home matters, which is why we work to transform properties into communities where our seniors, adults, and children thrive regardless of the circumstances. Rome Pines, our newest family property and 2020 tour location, is a prime example of this philosophy. This community is now home to 170 working families who have a safe, beautiful apartment home that they can afford. We are proud to introduce this property to tour attendees.
We hope you'll join us to learn more about our unique story and how you can make a difference. We strongly believe our community is bigger than just our residents and staff – it is enriched and sustained by partners like you.
To schedule a time to tour one of our communities, please contact Krystle Chappell.