Nevada HAND builds its high-quality homes to inspire pride of place and a sense of neighborhood for our residents, as well as create an amenity for the entire community. Our homes are built through HAND Construction Company, our construction affiliate, and a team of professionals dedicated to crafting communities that last for decades and create "more than a home."
Our construction team works with our development team, investment partners, property management, and resident services to ensure our properties are appealing, functional, and built with our residents' needs in mind.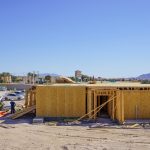 Phase 2
ROME PINES
Rome Pines is a brand-new community in a quickly developing part of North Las Vegas, located at Rome Blvd. and North 5th Street. Upon completion, this property will have 292 apartment homes, as well as several amenities for our residents, including a pool and splash pad, soccer field, tetherball and basketball courts, community spaces, and more.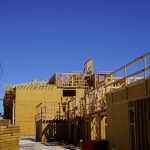 Phases 2 & 3
FLAMINGO PINES
Flamingo Pines is an independent senior community in the Southwest Valley, located at Flamingo Rd. and Durango Dr.  By the end of 2020, this property will have 175 one and two-bedroom homes, as well as several community amenities, to help seniors age-in-place and stay active.
Responsible Building Practices
HAND Construction Company is proud to incorporate several sustainability strategies into its building practices, including:
Solar energy, through a partnership with the Low Income Solar Energy Program

Energy efficient appliances

Drought efficient landscaping
Nevada HAND is also the proud recipient of the first LEED Platinum designation for multi-family housing in Nevada for its Westcliff Heights community.
HAND Construction Company is also a valued community partner, providing contractor, building, and other services for several nonprofit partners in Southern Nevada, including:
Shannon West Homeless Youth Center – Development and construction services

Lutheran Social Services of Nevada – Headquarters building on the Boulder Pines Community Campus

Boys & Girls Clubs of Southern Nevada – Three clubhouse locations co-located with our Boulder Pines, Desert Pines, and Apache Pines communities