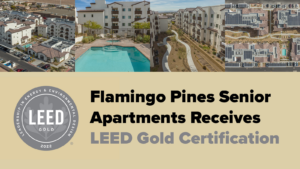 Leadership in Energy and Environmental Design (LEED) awarded Nevada HAND's senior 55+ community an outstanding score for creating healthy, highly efficient, and cost-saving green buildings
As Nevada's nonprofit leader in affordable housing, Nevada HAND not only strives to provide residents more than a place to live, but also ensures that residents' homes are safe and energy-efficient. The LEED Gold Certification recognizes that the Flamingo Pines Senior Apartments buildings are improving energy efficiency, lowering carbon emissions, and creating a healthier environment for seniors to live.
According to LEED's certification rating system, Flamingo Pines earned points by adhering to prerequisites and credits that address carbon, energy, water, waste, transportation, materials, health, and indoor environmental qualities. LEED awards four certificates according to the score the project is rated: Certified (40-49 points), Silver (50-59 points), Gold (60-79 points), and Platinum (80+ points). The Green Business Certification Incorporation (GBCI) conducted the review process and awarded the Nevada HAND community a score of 61 with the most points awarded to optimal location, innovation of building design, reduction of indoor and outdoor water usage, and optimized reduction of energy and heat performance.
This is the second LEED certification Nevada HAND has received. Westcliff Pines Senior Apartments received a Platinum Certificate from LEED in 2014 for the senior 55+ community located near Summerlin Parkway.
"Receiving LEED's Gold Certification reaffirms our mission to provide our residents 'More Than a Home' and to enable them to live well," says Audra Hamernik, President & CEO. "Currently, Nevada HAND has over 700 units of affordable housing under construction. With that new construction, we hope to receive more LEED certifications in the future. We are proud to be providing a great deal of housing for those in need, but we also understand that there is a lot of work still to be done as we address our housing challenges."
Flamingo Pines was built in 2020 and is in the heart of the Southwest Valley on West Flamingo Road near South Durango Drive. Flamingo Pines is minutes from Desert Breeze Park, as well as beautiful neighborhoods, grocery stores, retail, restaurants, recreation centers and other entertainment venues. This controlled-access community offers amenities including a clubhouse, pool, beauty salon, fitness facility, business center with internet, laundry room, a dog park, and onsite life-enriching Resident Services.
Currently, the state of Nevada has a shortage of over 85,000 affordable homes for extremely low-income renters. With renters making up over 44% of the state, and the average rent in Southern Nevada being $1,450 per month, Nevada HAND continues to develop and build affordable apartment homes where the average rent is $733 per month – 50% lower than the average market rate rent.
The units in development consist of rehabbed units and new construction. The affordable housing leader's latest multi-family communities, Decatur Commons Senior and Decatur Commons Family, will provide a collective 480 affordable housing units (240 senior and 240 family) to Southern Nevada's low-income families and seniors.
Nevada HAND is the state's largest 501(c)(3) nonprofit organization dedicated to the financing, development, construction, and management of the 35 communities in their portfolio, which includes the only two affordable assisted living communities in Southern Nevada, Silver Sky and Silver Sky at Deer Springs. The nonprofit has over 4,700 units within their portfolio and serves over 7,900 residents. Each community provides residents with on-site Resident Services. These supportive, life-enriching services are provided to each family and senior household with financial stability, health and wellness, education, and community engagement resources that empower every resident to live well and call their Nevada HAND affordable apartment unit, "more than a home."
To support Nevada HAND's goal to enable our residents to have the supportive services that allow them to live well and make their community "more than a home," consider following Nevada HAND, @nevadahandlv, on social media or donating a one time or reoccurring gift. CLICK HERE.