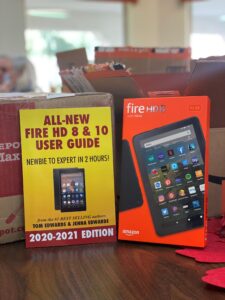 As a result of the COVID-19 pandemic, many of our senior residents experienced isolation and disconnection. In an ongoing effort to connect our residents with essential resources, our Resident Services Coordinators work with our qualifying residents, ages 60+, to fill out applications for free Kindle Fire Tablets and assistance to cover some cost of Wi-Fi services through Seniors in Service. They assist residents by completing and submitting application, and then calling their internet provider to obtain bill statements and attaching them to the application for a one-time payment assistance.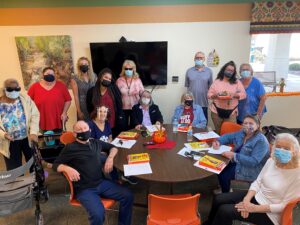 "A lot of residents cannot afford a tablet or Wi-Fi, so this has truly been a great resource and of great value to them." – Alta McGiffin, Pacific Pines Resident Services Coordinator
Embracing two of our Resident Services pillars, Engagement and Education, our Resident Services Coordinators help our seniors familiarize themselves with the new technology so they can make the most out of their new Kindles. Through their patience and attention to detail, our seniors now have access to telemedicine, ordering groceries, virtual social activities, video chatting with family, and more!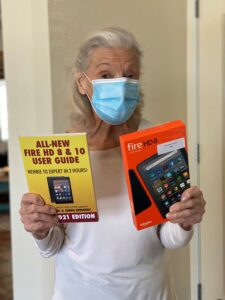 "I can't even tell you how grateful and appreciative I am of this gift, because this old lady is really going to use it!" – Senia, Westcliff Pines Resident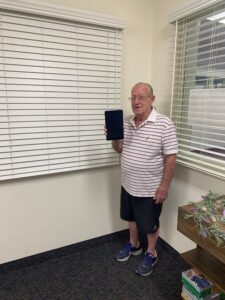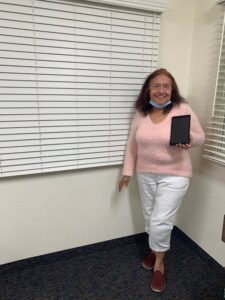 "The residents are really enjoying virtual assistant "Alexa", she is their new best friend! She helps them with appointment reminders, checking the daily news, checking the weather etc. I enjoy seeing their reaction and laugh every time she responds to a question or command." – Regina Burgos, Rose Gardens Resident Services Coordinator
Our Resident Services team continues to submit applications for Kindles in the hopes that every qualifying senior receives one to keep them connected with the community and their loved ones. Across Nevada HAND senior communities, every Resident Services Coordinator has already completed over 50 applications.
Thank you to our Resident Services team and Seniors in Service for providing resources to keep our seniors engaged and further their technological knowledge.
Nevada HAND's Resident Services is founded on four pillars: Education, Health & Wellness, Financial Stability, and Community Engagement. Resident Services Coordinators meet one-on-one with residents to assess their needs and connect them with critical resources, programming, and information that offer them social, financial, educational, and health-related benefits. To support Nevada HAND's Resident Services to enable our residents to have the supportive services that allow them to live well and make their community "more than a home," consider following Nevada HAND, @nevadahandlv, on social media or donating a one time or reoccurring gift. CLICK HERE.