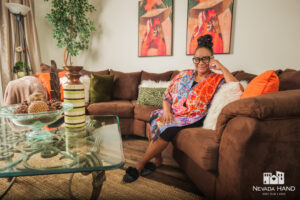 "It's not about where you are. It's the blessing inside of where you are." – Jean Robinson
Meet Jean Robinson, a resident at Rome Pines Family Apartments who uses her flair for interior design to project her vibrant personality into her home.
Initially discovering Rome Pines on an advertisement while scrolling on her tablet, Jean, who was living with her daughter at the time, decided it was time to reclaim her independence. In November, she will reach her second anniversary at Rome Pines with close family living within a mile away.
"I like nice things, but I like simple things. As long as my space is nice and I got a little something in the refrigerator, and I get in my car and go wherever I'm good. And of course, I have my family."
Born in Northern Louisiana, home of Southern hospitality, Jean has lived in Las Vegas for 39 years. She moved to Las Vegas for a fresh start in life and started working at Texas Station as a change girl before starting an 18-year career at Clark County School District (CCSD) as a custodian. After retiring, Jean decided to elevate her hobby of interior design and enrolled in The International School of Hospitality (TISOH), where she received her Wedding Coordination & Design Certificate after six months of hard work.
"The first day of school they'll ask you what do you want to do with your career? What are you going to do with this? And I was like, 'First of all, I'm terrified,' because I went to school back in my 50's. And I'm like, 'So what am I going to do with this now?'. So as time went on, they asked us again toward the end and I said, 'You know what? I don't want to be anybody's coordinator. I want to straight design.'"
Her natural talent originated back to her childhood when she loved to beautifully rearrange her grandmother's artifacts. Her creativity and talent are reflected in her Rome Pines home as well as the various projects her budding design business tackles, including her favorite – decorating Christmas trees for her clients! Whilst Jean is in the process of growing her small design business, her next big project will be designing a 50th high school class reunion at Luxor Hotel & Casino.
"If I see somebody design something, I'd go back and I do it my way to make it better."
To support Nevada HAND's goal to enable our residents, like Jean, to have the supportive services that allow them to live well and make their community "more than a home," consider following Nevada HAND, @nevadahandlv, on social media or donating a one time or reoccurring gift. CLICK HERE.